A unique embodied workshop experience where using the practice of Djembe drumming you learn how to connect your body, mind, heart and spirit to create and co-create sound frequencies with others. This workshop is designed to be lively, fun, and practical and depending on your intention, it can also provide an intensely emotional and spiritual experience. Graeme puts participants in touch with The ROOTS of modern music with an energetic combination of ROOTS rhythm and his narrative and educational workshop guidance.
In this Djembe workshop you learn
to play the Djembe drum using proven traditional techniques originating in the training schools in Guinea Conakary for the Djoliba (the National Drum and Dance Ballet of Guinea Conakary).
an effective system of percussion technique used and respected by the Kamara family, from Guinea Conakary, teaching you to Apply correct technique, posture and tempo with meditation, learning how to 'free your mind' and utilize your true natural 'in the moment' energy.
African Rhythms and experience Rhythm and Melodie, learning introduction and rhythm variation patterns arrangements .
After a good foundation in Tempo, Technique and Rhythm has been established, Graeme will guide you into playing Melodies and solo phrases.
Duration: 1.5 hours
Weekly: Fridays 7.30 - 9.00pm (Times subject to change)
Space is limited to 10 participants.
Who is this for?
This Djembe workshop is for beginners with little to no drumming experience and for more experienced drummers looking to learn Djembe. This will also suit those desirous of developing a musical meditative practice. Note Well: If you feel the call of the drum but think you have no rhythm, then this is for you - your rhythm is in you and Djembe practice will help you to connect to and unleash it.
What is the Djembe Drum?
The Djembe drum, invented by the Mandinke tribe, Mali in the 12th century is one of the best known instruments from West Africa. A djembe (pronounced 'jem-bay') is a rope-tuned skin-covered goblet drum played with bare hands. According to the Bambara people in Mali, the name of the djembe comes from the saying "Anke djé, anke bé" which translates to "everyone gather together in peace" and defines the drum's purpose.
Do You Need a Djembe Drum?
No you do not need to have your own Djembe Drum. However to ensure that there are drums available for you, you must register by 8.00pm (BST) on the Thursday before the Friday class. If you fall in love with the Djembe after the workshop you can order your own custom made Djembe so that you can continue your practice at home. If you have your own Djembe Drum we encourage you to bring it along.
Can You Pay for More than One Class?
Of course mastering Djembe will take time. If you are serious about building your skill levels in Djembe drumming you are encouraged to come and experience your first class and after discussions with Djemfola Graeme you can make decisions about how you go forward.
Can children join this workshop?
Yes children over the age of 7 are welcome but there is no specific dedicated support for them. That said, Djemfola Graeme is an experienced teacher of Djembe at primary schools across UK (see https://rhythmworksprimaryschools.co.uk). If you would like to bring a few children together for a childrens Djembe workshop, please come along and discuss with Djemfola Graeme.
COVID-19 Restrictions?
As of July 19th 2021 formal COVID-19 restrictions have been lifted. However, we still want to be respectful of each other and of the hosts of the venue for the workshop. If on the day you are feeling unwell, please do not come. You will be issued a refund upon receipt of an email from you outlining the circumstances. No masks are required but if you wish to wear one that is fine. All drums and the room in which we host the drumming circle will be entirely cleaned. You will be required to use hand sanitizer on your way in and to practise 2m social distancing. Drums will be spaced out accordingly. Your full name and contact information must be provided in case we are notified of any symptoms from participants. If after the session you experience any symptoms please notify us via email asap. contact@u-solve.org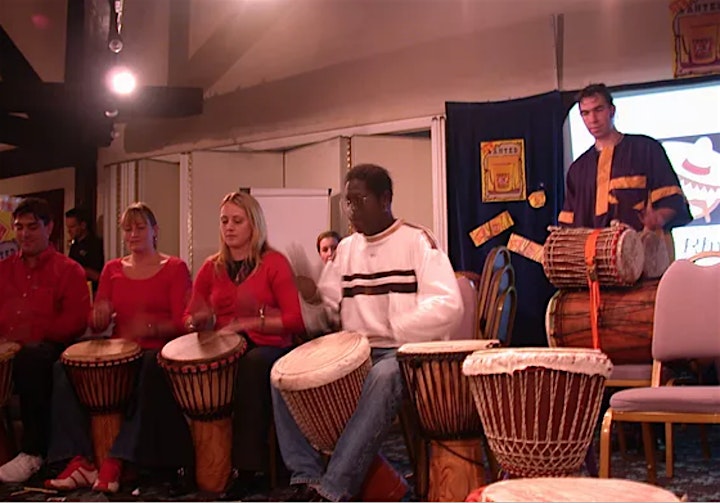 About Djembefola Graeme Goodwin
Using the West African fundamental Roots-music system, Graeme Goodwin is a Djembefola, founder of RhythmWorks and makes, teaches and performs the Djembe drum.
After a near death experience in 1995 resulting in Maxillo-facial surgery & complete memory loss, as well as a few broken bones, Graeme travelled to West Africa to seek the help and assistance of Gran-Master Tomas Camara.
After months of Drum Meditation and upon returning from Africa, Graeme had a great feeling of RE-BIRTH and inspiration..and he donated his recent inheritance to build a home for Tomas & family and Djembe Training Centre in The Gambia. "A l l a Le a k e K u n d a"
Since 1999 Graeme has been demonstrating in Schools, Colleges, Workplaces and Community how his incredible system of Djembe Drumming promotes Health & Well Being. In addition, he is known across the UK for his teaching, playing and dedication to the Djembe, since 1999 in the UK and Europe - teaching an easy and fun way to begin mastering the Djembe.
Graeme specializes in providing Djembe Tuition and Resources; Drumming and Yoga Holidays in Europe + Interactive Drumming Experiences, 'Break-Out' and Team building Sessions and has worked with clients such as; Vodafone, Heinz, Catapillar, Unilever, Lloyds TSB and Nat West.
In Sardinia, Since 2003, Graeme & Anna Goodwin have been providing Drumming & Yoga Retreat style holidays - Highly Effective Djembe instruction with daily Yoga making for a UNIQUE, INSPIRING and Unforgettable experience.
Now in partnership with U-Solve, a holistic school for social entrepreneurship, Graeme brings Djembe workshops to Bath, UK.